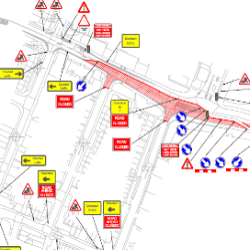 Before your final traffic management drawings are produced by our highly trained staff, one of our operatives will conduct a thorough site survey to assess your project. We will discuss our findings with you to come up with a plan that is in line with current legislation, and that satisfies your requirements.
Our professionally produced drawings take into account parking, pedestrians, road signage, road layout, vehicle movements, visitors to the site, required permissions, nearby amenities such as schools and hospitals, risk assessment, and contingencies in case of emergencies.
Action TM aims to cause as little disruption to the public and road users as possible by meticulously planning out our traffic management solutions. Our traffic management drawings meet all industry standards of Chapter 8 of the Code of Practice Safety at Street Works 2013. Our team use only industry approved software to produce easy to read traffic management drawings.